Sunday was a great day. Not just because of my eggs and sausage breakfast, not just because of Shanghai's introductory Formula 1 Grand Prix. No. It was just because I was going to see Nick Cave and the Bad Seeds in Oslo's concert hall. The expectations were growing..
I'm a fan of Nick Cave, no doubt about it, but I'm not into him qua connosieur, as in I've only really listened to a couple of his albums.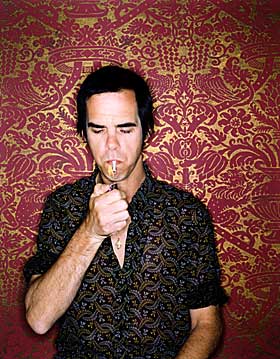 His latest double album; Abbatoir blues and Lyre of Orpheus has been bought, but only gone through once, which is why I had an open expectation as to what to get from the concert. I was glad, though, that they had a wide set including songs like Hallelujah, Henry Lee (where he also tributed all the "Norwegian fuckers"), Into my arms, The Ship Song and God is in the house.
The show opened with storming applause. There is no doubt that the people who'd met up (except for the couple next to me) knew how to appreciate the presence of a musical mastermind. I was instantly torn out of the rigid world of dogmas and social conventions into the brilliance of the dark star Cave as The Bad Seeds opened with thumping progrock only they can produce. I was especially taken by the violinist who really put his personal colour to the entire concert, but Cave's grand piano should perhaps have been put a little louder..
In came the thin, charismatic, energic yet slouching prince of darkness and black gospel, and I knew that this was set for the history books. I was glad to see that allthough the ticket said "Nick Cave soloperformance" the Bad Seeds (or 3/4th of it) wasn't excluded from any part of the concert, backing and even surpassing Cave in waves of vulnerability and hard, dispaired cries to God. Songs like Hallelujah and Henry Lee gave me a chill down my neck, but since I mostly go to instrumental concerts (Jazz, etc.) I was soon lost to the soul of the melodies, rising to extreme heights as Cave and the Seeds are known to do.
The set was really short. Really short. Suspiciously so,
as Cave from song four and out emphasized the lack of a cigarette in his hand. I was ashamed to call myself Norwegian in that sense, denying an artist of this caliber a cigarette during performance is something KrF's Høibråthen will have on his conscious from this day forward. Then it was over. What? Are they having a break or something? The audience all stood up, applauding for not less than ten minutes, while Cave and the Seeds were probably outside having a fag:)
They returned after what seemed like half an hour with astonishing come-back energy and renewed strength. This repeated itself before the concert's management finally turned on the light to let people out.
I met my mates, Anton and Kornelius, on the outside, 'cause we didn't have seats together. We were standing there in light rain with the houndreds of other smokers enjoying a cigarette and a piece of silence, as we couldn't put words to what we'd just seen, I mean: It's Nick Cave for christ's sake! All I could say was: Fantastic! This was huge!
.. We joined Anton in his hotelroom for a couple of beers before we hunted down our favourite Café downtown where the bartender, which we all know by firstname, made us the courtesy of playing Nick Cave and Pearl Jam throughout the evening and night. I woke up Monday morning, I had the day off, and just consumed more Cave and digested what I'd already got. If you ever get the chance to see this guy live, do it!